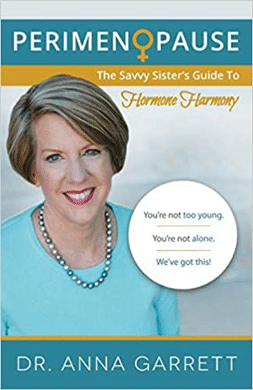 "Perimenopause? What?! I'm way too young!"
Remember when your mom sat you down for "The Talk"?
If you're over 35, Dr. Anna wants to have a second "Talk" with you.
Because it's time for you to learn the facts about perimenopause, and how to navigate this transition (which can last 5-10 years) without losing your mind!
Perimenopause: The Savvy Sister's Guide to Hormone Harmony is the compassionate, smart, and funny Talk that every woman needs!
A revolutionary book that gives you the tools to navigate this transition with grace and ease—so you can rock your mojo through midlife and beyond!
Just a few things you'll learn:
When perimenopause starts and how long it typically lasts.
How to figure out if you're going through perimenopause, or about to start!
Why perimenopause is very different than menopause.
The most common perimenopause symptoms (like fatigue, anxiety, weight gain, night sweats) and how to find relief!
Why you suddenly feel "off," and why you're not going crazy!
Why you need a healthcare team (because a quick doctor's visit is not enough), and how to build your support squad.
How to feel vibrant, sensual, and full of energy during mid-life and beyond.
In this entertaining, information-packed, empowering book, Dr. Anna shares everything you need to know about your body and how to care for it to create hormone harmony.
If you're a woman, and you have a body, then you need this book.
Get Chapter 1 of Dr. Anna's Book—Free!
Perimenopause: The Savvy Sister's Guide to Hormone Harmony
This book gives you the tools you need to navigate this transition without losing your mind or your mojo.
By clicking "Submit" you are opting-in to receive email marketing from me. Don't worry, you're able to unsubscribe at any time if you don't find value in the content I send, but I'm confident that you will.